My family made me one ecstatic mother today and I've got the pictures to prove it.

First off, two perennials that have come back strong. Last year we planted strawberries and got nothing. Because first years for strawberries are supposed to be for getting strong. I didn't know that and should have cut off any flowers that grew but didn't. Didn't matter, there weren't many flowers at all. This year I fear we might be beating back the strawberries.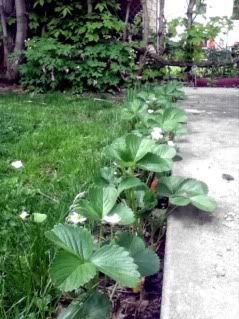 We have many hostas. They are all doing very well. Little roundy things that emerged from the ground maybe three weeks ago or so. Except for Monster. Monster is bigger now in May than it was at the height of summer last year.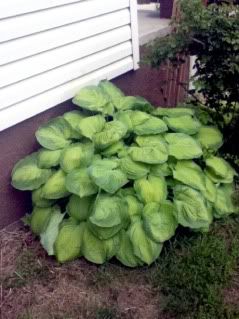 Also surprising me by making a comeback were the thyme and oregano. Usually the thyme stays green over the winter. It doesn't grow and it gets pretty brittle and hibernat-y, but it stays green. This winter it went brown stick on me. The oregano disappeared. Since I got them both my first year here, I figured they were done. Here are the thyme, oregano (with a new oregano plant on the side), cilantro, sweet basil and rosemary.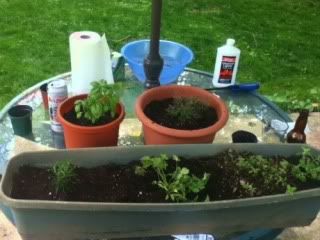 Sweet girl cherries, Italiano Ligano plums and celebrity slicing tomatoes. Two anchos, one habenero and one sweet bell peppers. This year, after pulling up a half a foot of washed out mulch AND a bunch of weeds, I decided the veggie bed doesn't have to be pretty, just functional. So no mulch- just fabric to keep the weeds down and the ground warm.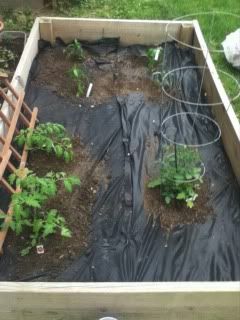 The big front bed is stuffed full with perennials. The daffodils are done, the iris looks like she's gonna give me one flower at least this year. This is good since the she was dug up, cut up and divided last fall. I thought I was gonna have to wait until next summer to see her flower. Also in the bed are Asiatic lilies, endless summer hydrangeas and a hardy hibiscus that I hope will make an appearance. The only thing I did in this bed was put down 4 spreading petunias in hopes of keeping the weeds at bay.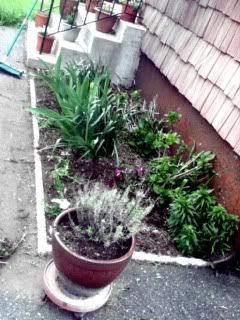 Only three marigolds survived until today. The rest were eaten, I think. They didn't die. They'd be there in the morning and gone when I got back home from work. New ones gotten. The Boy did all of this work: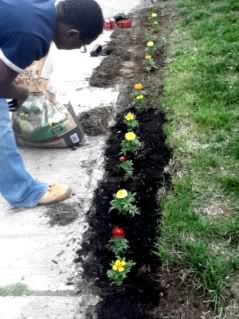 Filled up the last two stairs with dahlias and marigolds. Soon the tulips will be spent and my magnificent walk will be no more.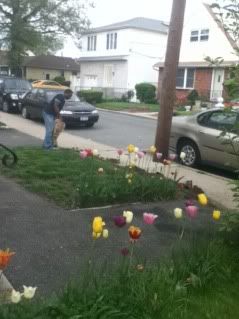 Hopefully by then the flowers in these pots will be big and beautiful.