I thought it was 2 miles but it was actually 4.
Yesterday George drove me to Jericho Turnpike and New Hyde Park Road from work. From there the plan was to take two buses home but I had 3 and a half extra hours that my job gave me and a fully charged iTouch camera. For this I thank Jesus. This and indoor plumbing: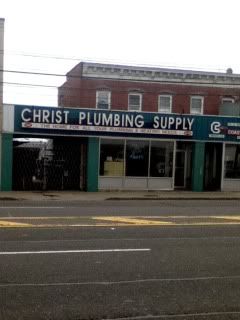 Well, that's gotta mean something right? Especially when it's not even 2 blocks away from this tavern I want to live in: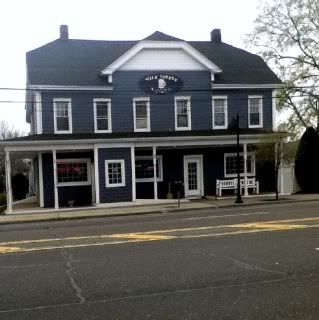 Had I taken the above picture with a real camera and not the very same camera that was blasting MOP's Ante Up into my ear at the same time it was taking this picture, you could read the sign that says that this is the Walk Street Tavern. Walk the streets! It all made sense.

This building here has a really cool turret-type thingy. But a few moments of contemplation brings up the important question-- what kind of room do they have up on top of that round thingy? The windows have a stained glass surrounding detail which makes me think it's a bathroom. A very round bathroom. With a round tub and curved mirrors and barrel sink fixture.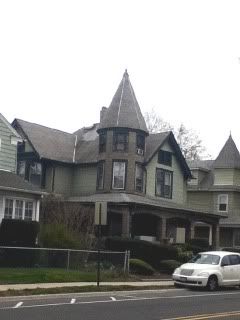 This part of town is on the right side of the track. The Belmont track. Garden City, New Hyde Park and Floral Park are all on the nice side of the race-way. If you wish to live on the nice side of Belmont Park and not buy a house, you better be prepared to live in one of these two apartment buildings: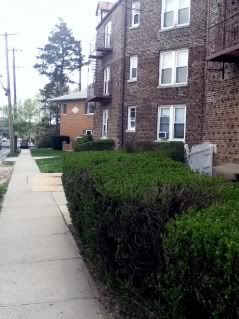 These are the only apartment buildings for miles. And you better like living right on top of this underpass: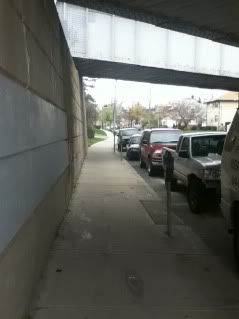 This is the very worst part of all three 'villages' that I walked through. And we're still on the 'right' side of the tracks.

This sight made me feel a bit better about myself. I see that we are not the only house put to shame by our neighbor's lush lawn: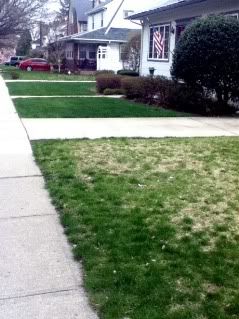 Believe me, I feel for you Crabgrass Guy.

Right on the border of Elmont (my village) and South Floral Park (where the post office insists I live) is this new construction: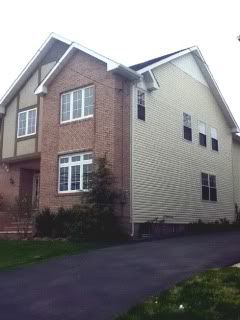 Would you pay $759,000 for it?

What I mean by 'the other side of the tracks'. This is the block right before the stable's practice track: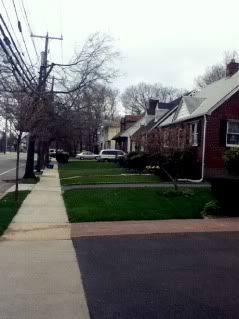 This is the practice track: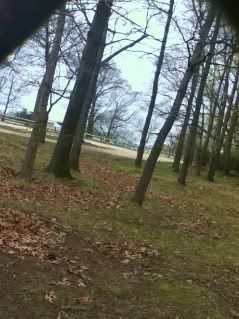 This is the block on the other side of the practice track: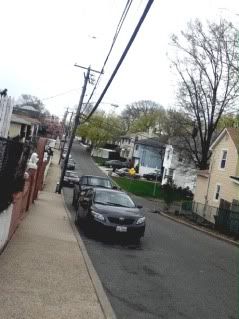 See the difference?

Almost home. Legs are burning, back is aching but I'm chugging along and proud of myself. Why, I may even be proud of my neighbors who work hard to keep their stuff looking. . . WTF?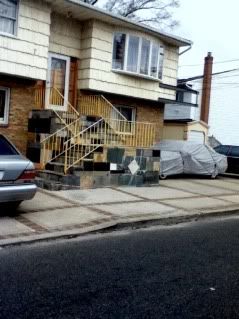 Pictured are 3 of the 5 Mercedes Benz'es parked on the driveway of this house. You'd think they'd sell one and fix that awful diy tile project on the stairs.


Top of my block! Home is in sight!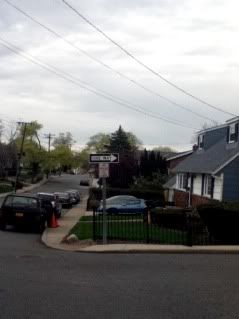 Tulips again because my tulips rock this year!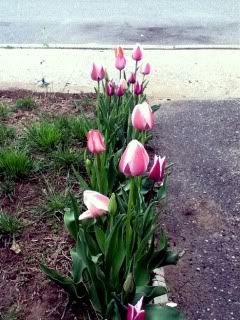 Inside! Lookit the first vase of the season. Yay for ranunculus.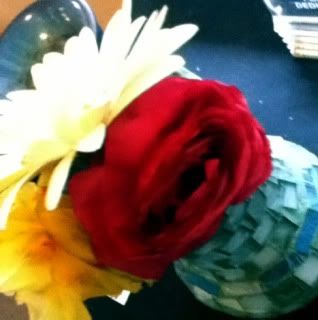 Now to make the butter preserve cookies I didn't make last night.