Granted, they don't look like much now. . .
Yesterday we had sideways rain. A little over 2 inches of hard, driving rain. Today when I came home from work, these were waiting for me! They popped up on either side of the walk up to the door. There's a bunch of them.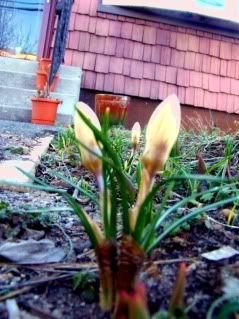 .

By tomorrow they'll be full-fledged crocus flowers. Also biding their time are the new tulips: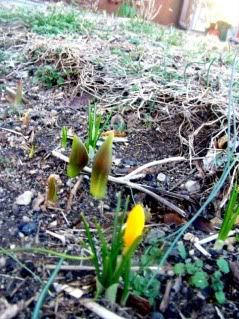 I don't expect flowers from the tulips for at least another month. But they sure hadn't even cracked the soil on Friday.


The daffodils showed up last week and have put in a lot of growth. To my mind it's kind of early for daffies but, hey, who am I to tell them when to grow?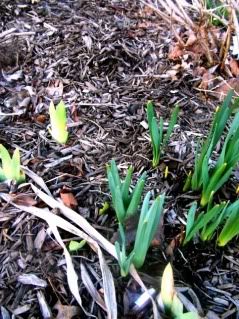 Also in the picture with the daffies are baby irises. I cut down and divided the monster iris plant last fall and gave away around 6 potted pieces. Justin insisted on keeping the old, original rhizome. I also planted 3 (or maybe 4) younger roots too. I don't know if they'll flower this year.

And last but not least, hyacinths!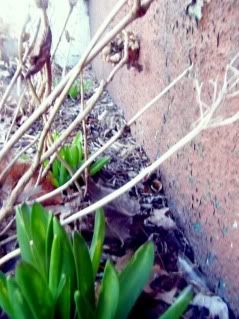 The thing is, I remember digging up the old hyacinths that I planted the first fall. They only grew to about 2 feet last spring. I also remember thinking to replace them. But I do not remember replacing them. I can't wait to see what color I put down.



Anyways-- Yay, spring!