This may be long. Also, simbel_myne, it took a while but here's a better picture.
The Biggirl household has been laid low. I tried to go to work on this Wednesday but was sent back home after an hour and a half. I shouldn't have gone in but I had been out 5 days! The first few were scheduled because I knew I wasn't going to want to put shoes on for at least two days after the toenail was removed. I had actually called in last Wednesday to say I was fine and coming in the next day. And then the flu hit.

When I got home Thursday, Dany was already here. He got sent home too. Justin dragged himself in before noon. Ebony was already in bed. By 4:30 the house was dark and we were all asleep. This confused and upset the cats. Plunket went from bed to bed, patting our faces and nipping at our elbows. Camry raced through the house, clawed the beds, climbed the walls and yowled and yowled and yowled. Today I feel better.


---
When I got my jewelry making Christmas present 3 (or was it 4?) years ago, it came with
this book
from which I tried the wire wrapping, bail-making and chain mail projects. I failed utterly at the chain mail. I tried chain mail a few other times but always ended up with a tangled pile of jump rings and frustration.
Recently, I bought
this here book.
It was not what I thought it was (a book of links. I love links), but a primer on chain mail. As I flipped through it all disappointed, something happened. I read his first chapter on jump rings and aspect ratios and, all of a suddenly, I felt I understood. I felt I could make a flower formation chain! So I tried. Here's a better picture of the bracelet: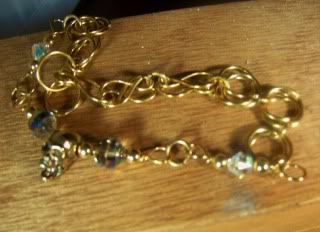 There are three different kinds of links in the bracelet. The big looking hoops are cheat-y flowers. Thin wire, gigantic inner hole- totally disregarding everything I just learned about aspect ratio. But I wanted to see if I could actually make the chain and not end up with a pile of tangled jump rings. Success!
Last night I pulled out my jar of saved extra jump rings (throw them away? After spending so much time and effort to make them? No way!) and got to work. At 4 am I had these: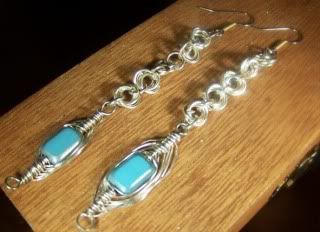 I was going to link the flowers with double jump rings but I lack a third hand.