Reposted from Gardening.
I've spent this whole season bitching about how meager my garden was this year, even though a lot of it was my fault for being too damned lazy to wanna work in the sweltering heat. Although I still put the heat and the lack of rain directly on Mother Nature's shoulders.

But you gotta give her her due. I pulled all the bib lettuce because that's where the garlic goes. And these last few weeks of cooler temps and plenty rain has exploded my herb garden. Lookit what Mom gave me today: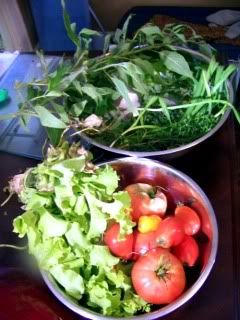 There was even some wild onion and wild garlic.