Pictures? You don't have to ask twice
Dear Apple For Teacher,

Although it wasn't today that I figured out your username, it was longer than I readily like to admit. Also, thanks for asking for pics. This has driven me off my ass and out of Sims 3 and out into the back yard, taking care of business.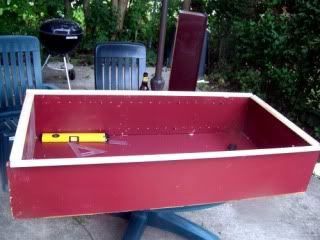 Note in this picture the smaller bookcase in the background. Too damn red. I have purchased a quart of brown paint which will, hopefully, be brown and not maroon.

Also note the Dundee Honey Brown bottle behind the bookcase on the table. Yeah, I was drinking a bottle of beer AND operating a circular saw. Cuz that's how I roll. Pray for my fingers.



ETA: It is now windy, a bit chilly and, worst of all, starting to drizzle. This area couldn't muster up a drop a rain during a hurricane but when I got shit outside that would rather not get rained on, well, of course it's drizzling.


I did pull of or hammer down errant brads and spray painted the trim on the big bookcase with the paint I used for the smaller bookcase. This is to prevent a vast color difference once I paint it with the hopefully brown paint I bought.

There is a real problem with me and the color I think I'm using and the color I end up with.