A not so victorious garden.
This year has not been a very good year for the veggies. My fault mostly. With gardening you get out as much as you put in and I put in very little. It was too hot and they are too stessed and the only attention they got was a whole lot of watering. My water bill almost tripled.

The garlic harvest was good but they're sort of last year's veggies. All other fruits and veggies were not at all fruitful. This is the best harvest I've gotten so far this year: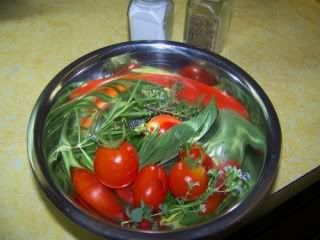 This will make a good garden sofrito. Sadly, I will have to use dried cilantro since the one I tried to grow was one of the first victims of this hot hotness. But I will make up for that with fresh pineapple sage, sweet basil, thyme, rosemary and a dash of lavender.


Man, this time last year I was literally up to my elbows in spaghetti sauce. Dried herbs were hanging around my head. There were hot AND sweet peppers pickling along with jars of pickled tomatoes. Ah well, I've got no one but myself and mother nature to blame. I hold out hope that I will see a pepper or two before frost.