Gingy said she liked peeking at other people's 'hoods.
My house faces due East. I know this because the sun rises in front of my house, travels straight across the top of it and sets directly behind it. And this is the only reason why I know in which direction my landmarks are.

If you walk south of my house you get the Turnpike and the library and the lampshade store. And the strip malls. That's what I took pictures of last time. If you walk west, you get the stables. On the way to the stables are houses-- all kinds of houses. This is not a sub-developement. It started as farms and then exploded when the track was built. These are houses the track workers built and weekend cottages built by people rich enough to build weekend cottages by race tracks. Nowadays it's strictly middle-class blue collar. Still, there's not a house that would sell for under $300,000. Not even this stinker: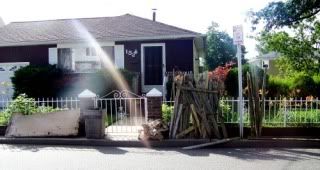 Besides the rocking horse, there was a razor and a big wheel in the front yard. Safe to assume kids live here. Me, I'd like a nice outdoor area like they have. Nice furniture, shaded, pretty hanging flowers. . .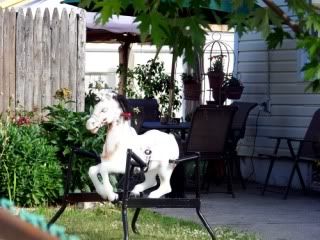 There are pretty flowers everywhere: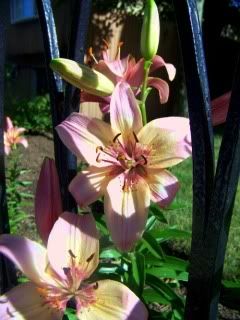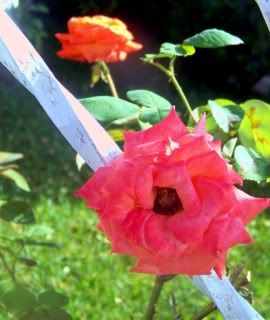 Look how neat and pretty this front bed is. Mine will never look like that because my laziness forces me to love the overgrown look.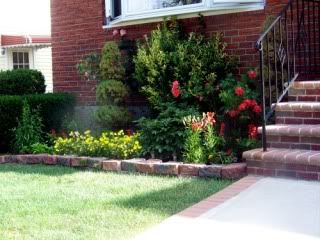 I want to do this. A birdbath with hostas growing under it. And perhaps some gerbera daisies in the summer.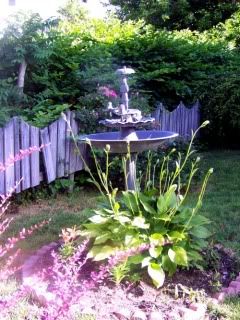 Justin wants to tile the front steps only I'm very afraid it'll end up looking too DIY, like this one: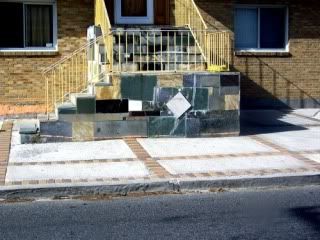 Keep going west for two blocks and you come upon Belmont Park, only not the nice grandstand, racetrack part of Belmont Park but the stables. One one side of the street there are houses, a local high school with a nice track and this: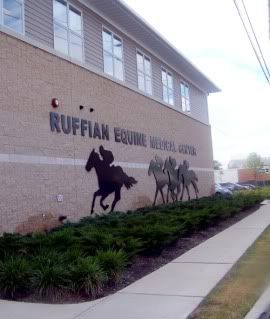 It's a horse hospital, a good thing to have next to a racing track. Horses board at the stables all year long, so I'm sure it gets a lot of use.


They are not bad neighbors at all.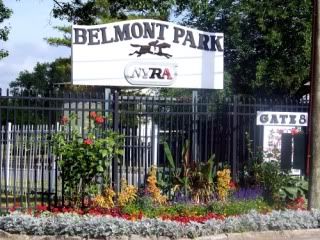 The residents are mostly quiet.





And their housekeepers do their best to keep the place nice:




You are all probably gonna think I'm crazy but horse poop doesn't smell so bad. Really. I cannot say the same thing about horse piss, however. Luckily, we don't get whiffs of piss often at all even though it is quite evident that we live two blocks from stables on warm summer days.


That was yesterday. I took the camera to work so

Dress down Fridays are very much loved around here.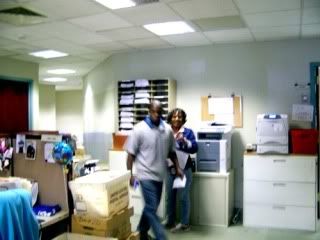 Would you believe the tiny woman in the picture above is the mom of the giant guy in the picture below? Her ex must be ginormous.