This isn't dinner.
It's a strawberry. The strawberry plants are not growing very quickly but they have put out about one and a half strawberries each. These are everlasting and not June bearing so here's hoping for more of these: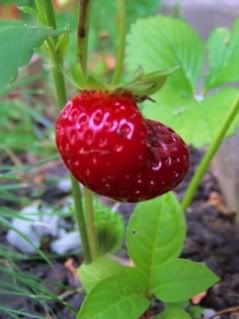 And here is not-dinner. It's Linner. Or Dunch.




Ribs, sausage, ports with mozzarella, two heads of garlic and some diced onions in the aluminum. Not pictured-- the asparagus spears.

P.S., it's a good 10 degrees cooler outside than inside. I'm melting as I type this.