OW!!!!! Ouchy HOLY SHIT!!!! Damn!
I went to scoop up a letter that had fallen on the floor. The letter had fallen around the computer chair. The computer chair doesn't have a plastic floor-saving mat under it, so the wood is all chewed up.

Can you see where this is going? I scooped up the letter and drove a quarter inch splinter waaaaay down deep underneath my fingernail. It's still in there and I have no idea how to get it out. It hurts as much as you think it would, too.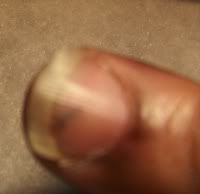 It hurts just as much now as it did 15 minutes ago. Any idea on how to get that thing out of there?




P.S.SUMABABITCH! OW!