Planning is usually a lot more fun than doing.
Except for when, while planning, you realize you just do not have the room to do one quarter of what's on your mind.

First off, the peppers. They are doing very well. I've got germination of 2 anchos, one California Bell and one habanero plus germination of two of the three mystery peppers that I started in January and forgot to label.

Here is week 4 for the bigger mystery peppers and week 2 for the just popped up seedlings.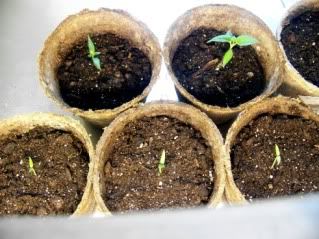 There is room for about 8 to 10 pepper plants in the bed but I've started 3 of each (plus 3 mystery ones) for a total of 12. This is in case of failures. I'm hoping for 2 bells, 2 anchos and one habanero to plant come this spring. And the two mystery ones. They'll be a whole 2 weeks bigger.

I'm also planning 3 tomatoes. They're getting their own bed this year. The smaller square bed. I was going to get starts in late April or May but-- why? I've got seeds and dirt and peat pots. And exactly the tomatoes I want too. One each of Super Sweet 100 cherries for eating off the vine, Romas for sauce and perhaps trying my hand at paste and Supersteaks for salads. I'm thinking of starting 2 of each.

The problem is-- that's about all the room I have with my new (vastly superior from a lighting standpoint) set up. What about the 12 marigolds I wanna have by Mother's Day? If I want 6 Snowballs and 6 Flagstaffs, I need to start, like 24 just to be sure. What to do, what to do?

My solution is to use the seed starter for the Marigolds, put them in the front bay window which faces east and pray the cats don't mess with it. If I start them on April 15th or thereabouts, they'll have an over a month head start as opposed to direct sowing in May.

This could backfire and the tender seedlings will all die, like they did last year. After the seedlings died I bought starts and sowed some directly in the bed. I did get marigolds but the weeds won the battle of the border last summer.

I'm still fighting with myself over where the rhubarb will go. Up against the fence my neighbor put around his backyard or behind the house were Dany killed the grass? At the fence they'll get good sun all day but I don't want them encroaching my neighbor's yard and I understand they grow pretty tall. Behind the house is ideal except for the fact that it's in shade for half of the day. I've read that rhubarb doesn't mind partial shade but shade until noon? That doesn't sound good.

The front yard where I put all the showy flowers? I haven't even begun to think about it. They're all gonna have to be purchased as starts because there is absolutely no room for me to start them from seed.

I need more windows and more yard.