Experimenting in the kitchen.
How does butternut squash hot sauce sound?

Dany bought a package of peeled butternut squash and never used it. They were in the veggie bin looking all dried out and white. Also sitting in the fridge a jar of jalepenos that Justin pickled himself. Plus there are wings because today is Superbowl Sunday and there must be wings.

Here's my plan:

Right now the rescue-able squash is boiling with three chopped up peppers and a generous splash of the pickling juice. That's going into the blender once the squash is soft enough.

Then Ima boil some vinegar with some garlic and onions and more peppers and perhaps a tablespoon of sugar. Oh and some of my dried herbs.

Add the puree to the vinegar and some tomato paste.

The one thing I'm worried about is consistency. I'd like it a bit thick. Justin is now boiling a pickling jar to put the sauce in.

That's what I'm gonna do.



ETA: Here it is.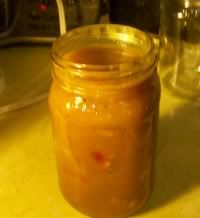 It is slightly sweet and vinegary with a surprise squash taste. Well, not so suprising since I know it has squash in it. It is also not instant fire, even though it has 8 jalapenos in it. It's a slow heat builder.

Dany is making baked honey wings. Justin's got a concoction of hot wings that includes sour cream in the recipe. I'm about to make some Butternut Squash hot wings. We got celery, carrots, blue cheese dressing and beer. I think we're ready for the game.