Bay Window Retrospective
The sunlight was gorgeous and I was bored. So I took a few pictures of my friends on the window sill.

First there's Visitor: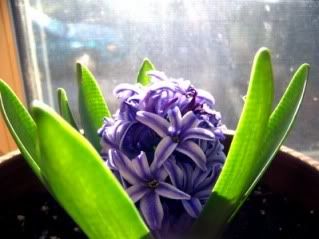 The surprise hyacinth is growing like crazy and smelling so wonderfully sweet. Much better smelling than the avocado I thought it was.


This is The Brain: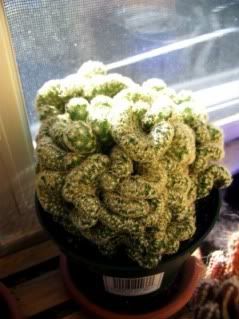 He grows pretty quick for a cactus. I think he needs a new pot.



This is Dead Head: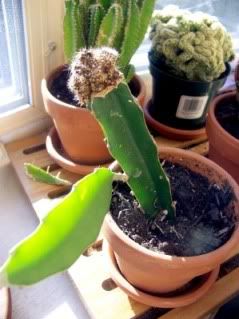 Whatever it was grafted on top has died. It may have to do with the fact that Camry loves to chew on this-- and only this-- cactus. He chews the outgrowing arms. He's an evil cat.


Unlike Crowning Glory whose graft has gone berserker: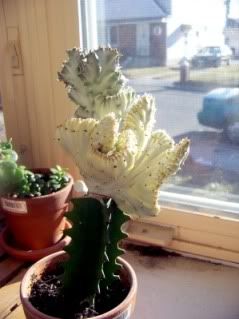 Redman likes to show off his ruby-ness. He's gotten redder over the years: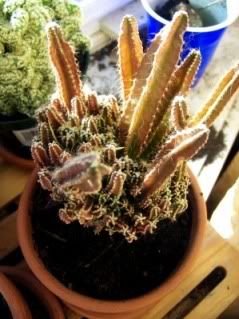 Pinchy's tops get pinched by nature.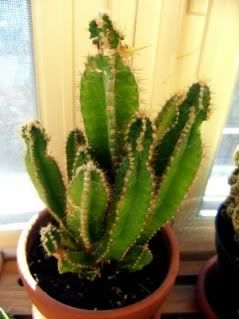 I have turned Jade around. She's reaching for the sun and running from the guys.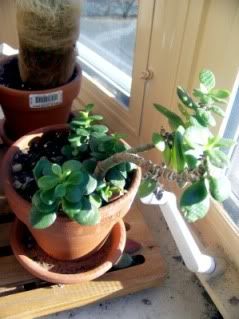 Tall Man is-- tall. His little brother tries and tries but can't catch up.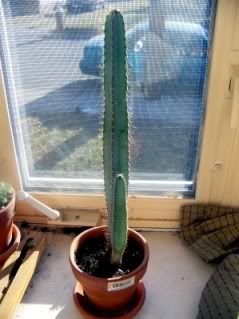 Dirty Hairy fleecy hair is dirt brown when it first comes out. Because it first comes out in the dirt, I think. It takes a very, very long time for them to turn white like the ones on top.